Jim Doblin • (785) 845-6158

jim@wbworks.com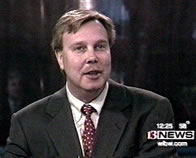 1997- : Network Field Producer: ABC, NBC, DHTV Productions, NewsTV, Lawrence, KS., Discovery Channel, America's Most Wanted, Court TV, Inside Edition, Extra, E!, ESPN, Fox Sports1, Food Network, RTL and Pro Sieben(Germany). Experienced with Avid and Media 100 non-linear editing. Producer, writer, and voice talent for corporate videos in Kansas City.


Video

Voice Overs

Request Crews
•Web Designer: (www.wbworks.com): Web publishing. Proficient in Macromedia Dreamweaver, Fireworks, Flash, Photoshop, Adobe Go-Live, Media Cleaner Pro. Working knowledge of all major operating systems, CGI,.asp, Perl, and php (hypertext preprocessor).
2006- 2012: Morning News Anchor, WIBW AM/FM, Kansas Information Network, Topeka, KS. | Radio resume Folder
1992-1996: Assistant News Director/Exec-Producer:WIBW-TV, Topeka, KS. Newscast producing, field and series reporting, assignment management, and a weekly Crime Stoppers report. Produced, edited, wrote and voiced the AP Award-winning investigative series: "The Phelps Factor."
•System Administrator: WIBW AM-FM & TV, for the computer system that serves news, radio, farm and network operations. Also managed daily web site(UNIX,Windows and Mac proficient).
•Elections Coordinator: Managed computerized result-gathering for local and state elections, including supervision of 170 precinct watchers, 20 terminal operators, and installation of LAN hardware. We were among the first television stations to put continuous election results on the internet.
1986-1992: News Producer: WIBW-TV, Topeka, KS . Produced 6pm/10pm newscasts, special reports including elections, severe weather and weekly Crime Stoppers reports.
1985-1986: Reporter-anchor: KTRH Radio, Houston TX. Police and general assignments including NASA beat and the "Challenger" explosion: Flight 51L Badge | Real Audio Downloads.
1984-1985: News Director: WIBW-AM/FM, Topeka, KS. Supervised staff and anchored morning news. Real Audio Downloads : Real Audio Downloads | Photos here.
1982-1984: Reporter-anchor: WIBW-AM/FM. Anchored and produced morning news and general assignment reporter.
1980-1982: News Director: KCMQ-AM/FM, Columbia, MO.
---
EDUCATION:
1980: University of Missouri-Columbia. Bachelor of Journalism Degree.(See TV GUIDE Photo)
---
ASSOCIATIONS:
1988: President-Associated News Broadcasters of Kansas.
1995-96: Member-Associated Press Broadcasters Board of Kansas.
1997- : Crime Stoppers of Greater Topeka Board of Directors.

Video: Real Player 56K | Quicktime 6.4 MB
2010-: Member, Washburn University Running Club
Printable page: MS Word Doc